BJP Leans Back on 'Hindutva' With Shobha Karandlaje's Tweet as Karnataka Nears Voting Day
Bengaluru: BJP's firebrand MP Shobha Karandlaje tweeted on Monday that Hindus in Karnataka should vote for the BJP and accused the ruling Congress of Muslim appeasement.
An hour before the tweet, which has since been deleted, Karandlaje's mentor and BJP's CM nominee BS Yeddyurappa had said that his party would fight the polls only on development agenda as directed by PM Narendra Modi.
But not many in Karnataka are surprised by these contradictory positions.
The BJP, which is trying to unseat the Congress in May 12 Assembly elections, seems to have decided to play both communal and development cards at the same time.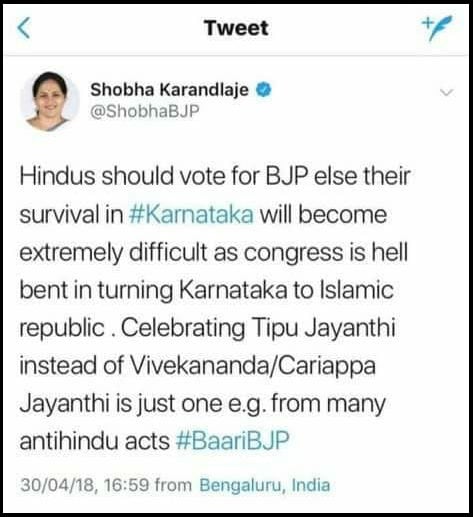 A snapshot of BJP MP Shobha Karandlaje's tweet, which has been deleted now.
Political observers in Karnataka feel Karandlaje's tweet is aimed at polarising Hindus is a well-coordinated move by the saffron party.
The two Hindutvta faces of the BJP, UP Chief Minister Yogi Adityanath and Union Minister Anantkumar Hegde, have been asked to campaign extensively across the state in the next 10 days to polarise the votes, observers argue.
Yogi, who initially raised the communal bogey in Karnataka, has been away for more than two months after the humiliating defeat in Gorakhpur and Phulpur bypolls in Uttar Pradesh. And the Congress in Karnataka thought that he was not returning to campaign.
Even Hegde, who has been keeping a low profile after his remarks seeking changes in the Constitution, is back in full form, attacking the Siddaramaiah government as an "anti-Hindu" one.
"After giving tickets to eight members of the notorious Reddy clan of illegal mining fame and five jailbirds, the BJP's promise of corruption-free government has fallen flat on its face. People are laughing at them. Their five-year rule between 2008 and 2013 was the most corrupt in the history of Karnataka. The same scamsters are back again. Left with no other option to lure voters, the BJP is playing communal card closer to voting day. Karnataka is not UP and it will not work here," said KPCC working president Dinesh Gundurao.
Even though Karandlaje, Yogi and Hegde are openly playing the Hindutva card, Yeddyurappa maintains that his party will win only on the development plank. He is also evasive about Hindutva firebrands.
After Congress chief Rahul Gandhi's visit to over 20 Hindu temples and Lingayat mutts across the state, a nervous BJP has decided to play a bigger Hindutva card to take on Rahul Gandhi's Hindu card, say some political pundits.
Chief Minister Siddaramaiah has also been ridiculing the BJP and Yogi Adityanath, claiming that he is a better Hindu than the "fake Hindus" like Yogi and Hegde.
The JD(S), the third player, has refused to get into the Hindutva debate, calling both the Congress and BJP communal.
But one thing is certain that all attempts to achieve a communal polarisation will be certainly made in the next 12 days in Karnataka.
---