Each citizen has the opportunity to contribute in the development of country and state in this Great Democracy : Dr Raman Singh
Chhattisgarh to become Smart, Green and Prosperous Chhattisgarh by its silver jubilee in year 2025 : Chief Minister
Independence Day celebrated in a simple manner in capital city Raipur
Chief Minister unfurled tricolor at Police Parade Ground
On the occasion of Independence Day today, Chief Minister Dr Raman Singh unfurled tricolor and took salute of Parade, and then gave his message to public. In his message to public on I-day, Chief Minister said- This great democracy gives each of the citizens to contribute to the development of their state and the nation. In his address, Dr Singh also commemorated the contribution of freedom fighters, all the known and unknown heroes of freedom movement, brave personnel who sacrificed their lives for nation's security and the talented artists who are contributing in rebuilding the nation.
In the simple state-level I-day programme organized in capital city Raipur, Dr Singh said- Chhattisgarh is exploring new heights of development. Farmers, labourers, workers, scheduled caste, scheduled tribes, women, youth, businessmen and people belonging to each and every section of society are working together diligently, which has resulted in this success. When Chhattisgarh state will celebrate its silver jubilee in year 2025 as a Smart, Green, Empowered and Prosperous Chhattisgarh. Chief Minister Dr Raman Singh said that the world know- when people of Chhattisgarh pledge to accomplish something, nothing in the world can stop them.
Dr Singh took salute of Police, Special Armed Forces, Home Guard personnel, National Cadet Core (NCC), National Service Scheme (NSS), and students of Scouts&Guides of India. He inspected the parade in an open vehicle and greeted common people. Later, he read his message to people of the state.
Chief Minister offered salutations to martyrs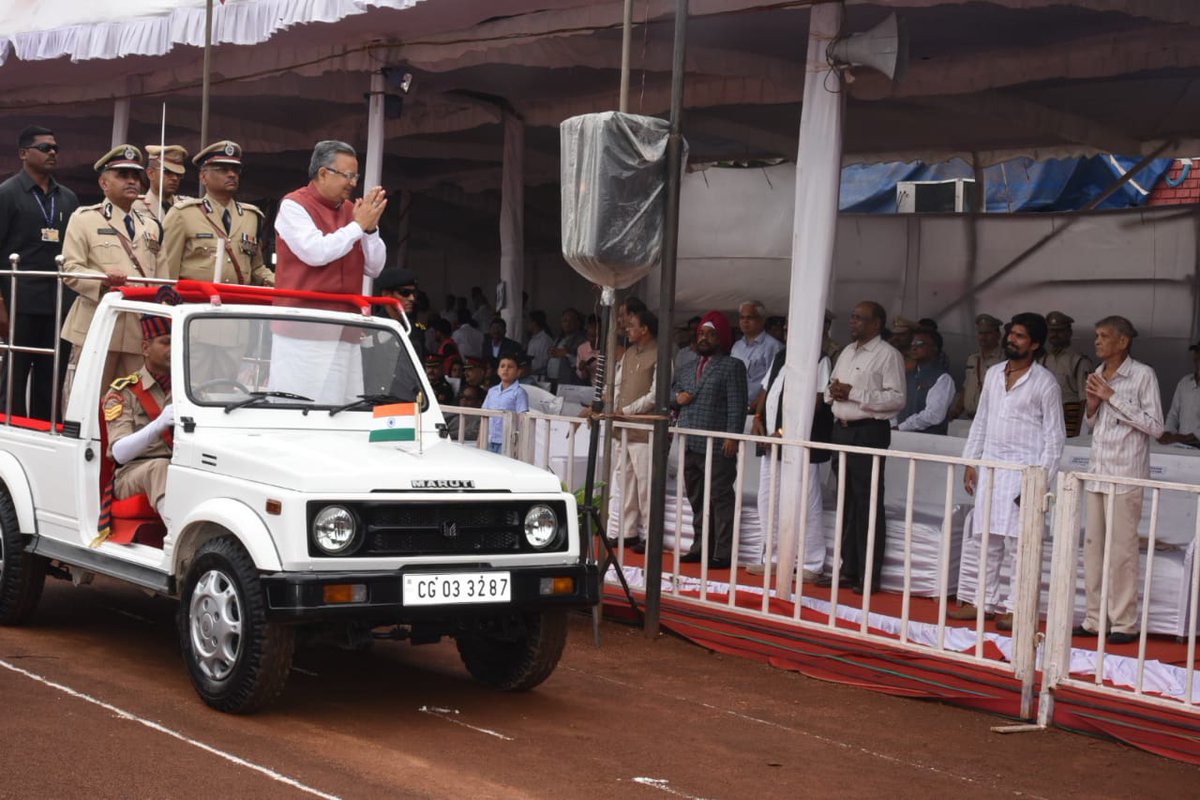 Chief Minister opened his speech with greetings in Chhattisgarhi dialect and commemorated the great martyrs saying- I offer my heartfelt salutations to the brave souls of renowned and unknown heroes of freedom movement,martyrs who sacrificed their lives for security of the nation and various talents that are contributing to rebuilding of the nation. It is a matter of pride for all of us that martyr Gaid Singh, Veer Gundadhur from dense forest region of Bastar and martyr Veer Narayan Singh from planes of Bastar had sparked the fight for freedom with their companions in Chhattisgarh, after which lakhs of people turned it into rigourous movement.
Expressed Gratitude to Public
Dr Singh said- I am fortunate that for the fifteenth time I am unfurling our beloved national flag on Independence Day and addressing you all under its shade. I got the opportunity to serve you for three consecutive tenures. On each day, I got your guidance and support in my work, for which I will always be grateful to you all.
He said- today I am having a flashback of the scene of December 7, 2003, when I had sworn in as Chief Minister of the state. At that time, even after 56 years of Independence, people were struggling with hunger, terrorism, corruption, diseases, unemployment, oppression and exploitation. Right from villages to cities, people were disappointed. Bus stops and railway stations were over crowded with people migrating from villages in poor state. Lack of irrigation, fertilizers, seeds, water, agriculture loans, electricity, road, drainage, school, hospital and other basic facilities had exhausted the farmers and villagers. Lakhs of farmers were tagged as defaulters and deprived of both respect and foodgrains.
'Antyoday'- Basis of State Government Schemes
In such a difficult scenario, I got the responsibility to turn vision of Chhattisgarh's creator Mr. Atal Bihari Vajpayee into reality. When I had a close look at this dense darkness of grievances, I saw the ray of hope in the concept of 'Antyoday'. This thought of Pt Deendayal Upadhyay inspired me that we should stand by even the last person of the last row of society through their tough times, and bring them relief, support and motivation to move forward. In this way, 'Antyoday' became basis of all our schemes and policies.
Village, Poor and Farmers are top priorities of Government
Chief Minister said- When I took charge, I had said that 'village-poor and farmers' will be my top-priority. At that time I had taken the pledge of 'Sabke Sath-Sabka Vikas', after which I never had to look back. I received immense love and support from public. I got this beautiful relationship with people of my state that I consider to be the most valuable earning of my life. The opportunity to serve the state for three consecutive tenures helped us maintain continuity in our policies and good-governance.
Government opens treasure for prosperity of farmers
Dr Singh said- when we deeply analysed the situation we realized that we cannot uplift farmers without breaking the cycle of higher input cost and low price of yield. Farmers used to tell me that they are stuck in this cycle of misery by taking a costly agricultural loan, and all their ways to better future are blocked. To bring relief to such farmers, we waivered off short-term loans from time to time. Government unleashed the treasure for welfare of farmers. Mega campaign of reforming productivity, production, procurement and distributing system was conducted. Number of irrigation pumps in the state was increased from 72 thousand to nearly five lakh, free electricity, number of paddy procurement centres was doubled, and transparent online payment system was implemented to ensure immediate payment against procurement. We provided interest-free loans. Many grants and subsidies were sanctioned. In last 15 years, nearly Rs 76 thousand crore have been distributed to farmers as support price against paddy procurement and bonus amount.
Never-before hike in Support Price of Paddy
Chief Minister said- Prime Minister Mr. Narendra Modi took a major decision to hike support price of paddy this year by Rs 200, which has acted as a boost for our paddy-producing land and agricultural traditions. 'Prime Minister Crop Insurance Scheme' has provided security cover to our farmers, because of which our 5 lakh 63 thousand farmers got insurance claim of Rs one thousand 295 crore, which is a record in itself. By year 2022, we will achieve the goal of doubling the income of farmers.
Fifteen years back, scheduled tribe and scheduled caste communities were going through horrifying grievances. Middlemen in forest areas were exachanging dry fruits for salt. Any kind of facility was a dream. We have not only arranged regular supply of iodized salt, but have also ensured regular distribution of protein-rich chickpeas, solar lamps, footwears etc.
Administration is closer to people in tribal region
Dr Singh said- we have increased the number of districts in state from 16 to 27. Seven new districts were formed in tribal region, which helped administration to come closer to public. Tribal populated regions such as Bastar and Sarguja have been equipped with universities, medical colleges, engineering colleges and other institutions. Authorities were constituted to ensure immediate redressal of local development related demands. Now maximum innovations of the state are taking place in Sukma, Dantewada, Balrampur-Ramanujganj districts. Bijapur's Hospital, education hub in Dantewada-Sukma, Korba, internet connectivity in Balrampur, organic farming and Kadaknath rooster farming in tribal districts, women driving e-rickshaws are few of the many success stories of this region. BPOs have been started in Dantewada, Sarguja, and Rajnandgaon, which are not only providing employement to youngsters but is also channelizing their talent in the right direction.
Nearly Rs 4000 crore distributed to tendupatta collectors as wages-bonus
Dr Singh said- we have increased wage rate for tendupatta collection from Rs 450 per standard sack to Rs 2500 per standard sack. We started bonus distribution from income earned from tendupatta business; in this way nearly Rs 4000 crore were distributed. With insurance schemes, medical, education and development related facilities were provided. We have made arrangements for procurement of mahua seed, sal seed, chiraunji guthli, harra, lac rangini, lac kusmi and tamarind on support price. Chhattisgarh has reached second position in the country in production of lac. In terms of forest land rights certificate distribution, Chhattisgarh holds top rank in the country. In the state, nearly 3.5 lakh hectares of land has been allotted to nearly four lakh forest dweller families of state.
Redressal of problems arising due to different phonetic values of caste names
Chief Minister said- earlier many people were unable to avail government schemes, because of the difference in phonetic values of their caste names in Hindi and English language. We have redressed this problem. We have provided government jobs to local youth by creating district cadre in scheduled areas.
Glorious Achievements of Children belonging to Scheduled Caste, Tribe and OBC
Dr Raman Singh said- Who doesn't know about backward tribe of Chhattisgarh- Baiga? But not many people know Bharat Lal. Bharat Lal is resident of Mannabedi village in Bodla block of Kabeerdham district, son of agriculture labourers, who got selected in DTU Delhi. Children of tendupatta labourers in Bijapur district- Tamal Kumar Vasan of Cheramengi village and Suklal of Koysaguda village are now studying in medical and engineering colleges. Many such examples of 'Antyoday' are evident from River Ib to Indravati. Large number of children from SC/ST/OBC rural families getting selected in reputed national institutions, many have got selected on higher posts in state and country by clearing national level competitive exams. Fresh example of the same is Devesh Kumar Dhruv of Gariaband district, who glorified name of the state by securing 47th rank in the country in UPSC exam.
He said- innovation has played an important role in all these achievements, under which institutions such as Prayas, Sankalp, Chhu Lo Asman, Youth Hostel Delhi were established. Livelihood Colleges have been established in all the districts of the state. Because of Skill Development Law and facility of training at a large scale, youth of our state is getting employement in big firms. Student-Teacher ratio in state is better than national average.
Regularization of Shikshakarmis
Dr Raman Singh said- Decision for regularlization of Shikshakarmis has been taken to accelerate improvement of education quality and for bright future of children. New steps such as opening English medium government primary and middle school in development blocks, professional education facility in school, have also been taken. Our youth is full of enthusiasm as they no more have to leave their state for higher education, for now national level higher education instates have been established in the state itself. IIT, NIT, IIIT, IIT, AIIMS, IIM, Central University etc have made Chhattisgarh an education hub.
Our continuous efforts have led to increase in number of universities in state from 4 to 13, number of medical colleges from 2 to 10, number of engineering colleges from 14 to 50, number of colleges from 206 to 482, colleges in tribal region from 40 to 71, gross nomination ratio in higher education has increased from 3.5 to 16. Young talent of state is not only shining in the field of sports but also in other fields including research-study.
78 Welfare Schemes for Labourers
Chief Minister said- we have done registeration of more than 30 lakh labourers,and they are being provided the benefits of 78 schemes including schemes related to nutrition, health, education, training, equipments, marriage, insurance security, sewing machines, bicycle, free tiffin, freshly-cooked nutritious food, skill development, subsidy of Rs 50 thousand for e-rickshaw purchase etc.
Significant Improvement in Health Indicators
Dr Singh said- Maternal Mortality Rate (MMR) in Chhattisgarh has declined to 173 and Infant Mortality Rate (IMR) has declined from 70 to 39 per thousand. Percentage of child vaccination has increased from 48 to 76% and Institutional deliveries from 18 to 70%. This achievement would not have been possible without collective efforts of government and lakhs of people including mitanins, and teams of primary health centres, district hospitals and other medical units. Our state is the first in the country to provide medical treatment of Rs 50 thousand to all the families of state using smart cards.
40 lakh poor families of state to get benefits of Ayushman Bharat Yojana
Dr Singh said- Prime Minister Mr. Narendra Modi has launched world's biggest healthcare scheme 'Ayushman Bharat Yojana', under which nearly 40 lakh poor families of Chhattisgarh will get facility of medical treatment of upto Rs 5 lakh every year. Under this scheme, 5100 sub-health centres will be developed as wellness centres by year 2022.
Chhattisgarh to become ODF state by October 2 this year
Chief Minister said- Prime Minister had announced goal of making India Open Defecation Free by October 2, 2019. Under his guidance, we will realize the dream of Mahatma Gandhi one year before the given time i.e. Chhattisgarh will become ODF Chhattisgarh by October 2, 2018. This mission has not only contributed to maintenance of clean surrounding but has also given the boon of safety and dignity to female members of our society. Women have made significant contribution in making this campaign a public movement.
LPG connection to 36 lakh families under Pradhan Mantri Ujjwala Yojana
Dr Singh said- Under Pradhan Mantri Ujjwala Yojana, 36 lakh LPG connections have been distributed to bring relief to women and provide them smoke-free kitchen. I thank women self-help groups of state, who have sparked the movement of self-dependence, self-employement and social awareness.
There has been a huge change in health and nutrition facility for women and infants. Earlier state had 21, 125 aanganbadi centres, which has increased to 52 thousand 474. Maternity Hospitals are being opened. Sanitary Napkin ATM vending machines are being established in Higher Secondary Schools and Colleges.
83% population of state got freedom from hunger
Dr Singh said- we made nation's first ever Food and Nutrition Security Law and implemented it, as a result of which 83% population of state has got freedom from hunger. Our transparent and model PDS is dedication to mothers and sisters of our state.
Paid Maternity Leave for MNREGA women labourer
Dr Singh said- For women empowerment, we have provided many facilities such as 50% reservation in panchayats, 30% reservation in government service, loans at 3% interest for women self-help groups, free education upto graduation for daughter, paid maternity leave to women employee on contractual posts and women labourer deployed in MNREGA.
8 lakh 36 thousand houses to be illuminated under Saubhagya Yojana
Chief Minister said- In year 2003, power crisis was one of the major concerns of the state, as the total electricity production was only 4thousand MW. But our attractive policies have increased the electricity production to 23 thousand MW and now we are known as Power-Surplus Power Hub Chhattisgarh. Transmission and Distribution system has been expanded and improved many times. Power-cut in Chhattisgarh is a thing of past and quality electricity supply is the present of the state. We are working on our goal to illuminate 8 lakh 36 thousand households under Prime Minister's Saubhagya Yojana.
11 lakh houses to be built under Prime Minister Housing Scheme
Dr Singh said- homelessness in the country even after seven decades of independence is a painful reality. Prime Minister Mr. Modi has launched Prime Minister Housing Scheme with an aim to provide housing for all by year 2022. I am happy that in Chhattisgarh, we are making the dream of 'own house' come true for more than 11 lakh families.
30 thousand kms of roads constructed under PMGSY
Chief Ministre said- there was a time, when it was difficult to find roads in villages. But Atal ji's gift of Pradhan Mantri Gram Sadak Yojana (PMGSY) has resulted in construction of nearly 30 thousand kms of roads in villages serving as lifeline of rural development in state. Under other schemes, length of roads has been increased from 30 thousand to 61 thousand kms, tarred roads have increased from 11 thousand kms to 27 thousand kms. Number of bridges has increased from 155 to 995, railway over-bridge from 3 to 15, and bypass from 1 to 26.
Bastar gets air connectivity
Dr Singh said- Bastar was like an island disconnected from country and the world, but we have connected this region with transport and communication facilities from all directions. News roads have connected Bastar to other cities of Chhattisgarh and adjacent states. Bastar has been largely benefitted by our campaign to double the inherited railway lines of 1187kms. Bastar has got railway service through Raoghat-Dallirajhara Rail Network. Jagdalpur has got its own airport and is now connected through aviation-services. Through Bastar-Net scheme, seven districts of Bastar region have been linked through internet connectivity.
50 lakh women, villagers and youth to get smartphones under SKY
Dr Singh said- Bharat Net, Bastar Net, Sanchar Kranti Yojana have commenced golden age of connectivity in state. Presently, mobile users in state are only 29% and connectivity is available in 68% area only, SKY has been launched to increase this percentage to 90. SKY will also play an important role in providing equal opportunities and facilities in remote and rural areas. Under this scheme, 1600 new mobile towers are being established and 50 lakh smart phones are being distributed to women, villagers and youth.
Development works worth Rs 3600 crore sanctioned from DMF
Chief Minister said- I once again thank Prime Minister for increasing our revenue by 10% , for new mineral policy, Prime Minister Mineral area Development Scheme etc. and economically empowering states. In the same sequence, development works worth Rs 3600 crores have been sanctioned from DMF, which will not only provide basic facilities in mining affected areas but will also enhance employment opportunities.
New Chapter of Security and Development in Naxal-affected areas
Dr Singh said- Prime Minister has commenced a new era of security and development in naxal-affected areas by selecting 10 districts of the state as 'aspirational districts'. You'll be glad to know that the tricolor unfurled today at capital city has been made by 'Shakti Garments' firm of aspirational district Dantewada. This tricolor symbolizes not only country's independence but also the financial independence of women, independence of regions considered as backward, and their contribution in building nation.
Appeal for Public Participation in Chhattisgarh's 'Vision 2025'
Chief Minister said- Today I appeal you to participate in Chhattisgarh's 'Vision 2025'. We pledge that Chhattisgarh will celebrate its silver jubilee with double GSDP than what it is today. Chhattisgarh will be one of the top five states of India in terms of per capita income. Farmers will have double income. Each citizen will have access to quality medical facilities. Everyone will have their own home. There will be 100% literacy in state. Each child will have access to quality education. Each household will have tap connection as well as internet connectivity. Major cities of Chhattisgarh will have air-connectivity. Chhattisgarh will hold top rank in entrepreneurshop, investments as well as in conservation of cultural heritage. Chhattisgarh will become the best state of the country. Chhattisgarh will celebrate its silver jubilee as Smart Chhattisgarh, Green Chhattisgarh, Empowered Chhattisgarh, and Prosperous Chhattisgarh. World knows that when people of Chhattisgarh take a pledge, no force can stop them from achieving it.
Naxalism to be uprooted soon
Dr Raman Singh said- with Government of India's support, Chhattisgarh's decisive battle against naxalism is nearing success. We have taken every possible measure to increase number, quality and power of security forces. We have achieved major success in exposing anti-constitutional, anti-democracy, anti-development, anti-public naxalites and soon they will be completely uprooted from the state.
---